More on accuracy
OK, so now it has been two weeks in a row that I've had a chance to let a new flintlock shooter fire at a target using a cartridge with the same size ball as was issued in the 18th century. That is, for the Britsih army anyway. We are taught in school about how muskets are not accurate because they use a ball that is undersized to compensate for fouling.
The Brits isued a .690 ball, wrapped in a paper cartridge, along with a powder charge of roughly 120 grains. Powder quality was a problem then, and today we use a much lower charge (120 grains with modern black powder is nearly a proof load). When we made up cartridges, rolled up the .69 ball in newsprint paper and filled the tube with 90 grains of FFg. Using modern black powder, a service load for a .75 cal Brown Bess is 75 grains of powder. The 90 grains in the cartridge takes into consideration the fact that there will be some used for priming and probably some spilled here or there in the loading process.
The first new shooter had a dozen or more rounds as we started earlier in the day, and all but 2 of his shots went into what you could call the "kill zone" of a human siluette target at 25 yards. that is, the shots would have been in the heart/lung area if you were actually shooting at a redcoat. I neglected to get a picture of his target. The other 2 shots would have hit the redcoat in the wrist, but I'd still call them "hits".
The next week, the new shooter got here a little later in the day, and we talked for a while before getting down to rolling cartridges. We only had the chance to roll 5 as it was getting dark and we wanted to get out there while there was still some reasonable light. By the time we got the target posted, it was grey out at best, and shadows come in quickly here because of the hemlock trees. In addition to that, he wore bifocals and had to keep moving his glasses around and looking over them to get a sight picture.
Even with the rapidly coming darkness and awkward eyewear, the guy managed to get all five shots on target. The first was a bull's eye, and three of the other four were in a "kill zone". The Fifth one was in the groin, and I'm on the fence as to count that one as a hit or not,although technically it did break edge of the black scoring zone.
Here is his target, click on it to see it enlarged: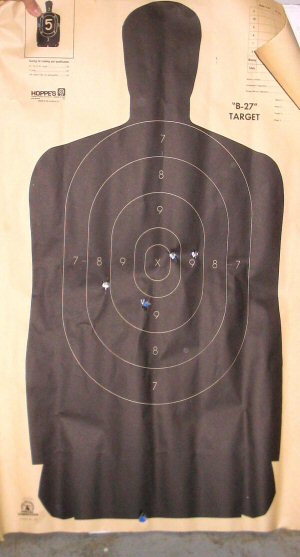 Keep in mind that we are talking about a new shooter in fading light loading from a cartridge with the infamous "undersized ball" we have heard so much about. Five shots, five dead or wounded redcoats.
Now compare the 25 yard target to a 50 yard target that I shot at a match over by the seacoast. It is at the bottom of this post. I fired it with a 1777 Charleville, using 65 grains of FFg and a patched .678 round ball. The Charleville is much more of a "shooter" design, with different ergonomics, an actual front sight and a smaller bore. Yeah, there is one "flyer" in the white 6-ring, but there are 3-10s and one 9. This goes to show that a smoothbore musket can be fired quite accurately in a civillian style loading, but even when loaded military style (I.E. with undersized ball and paper cartridge) it can still be much more effective than we are led to believe by what we learned in 5th grade.
The biggest part of a musket being an inaccurate weapon is the loose nut behind the stock. Most folks today, especially reenactors, don't know how to shoot. Most militia and conscripts from urban areas in the 18th century would not neccesarily know how to shoot either. Certainly not in the heat of battle.
Is a smoothobre an accurate weapon? Sure, within it's limitations. Does that mean that evey guy in the ranks is a marksman? No, not at all. They could have been trained to be, but the emphasis was on drill and manuvers, not marksmanship.
Imagine if all of those folks who were committed enough to the cause of the colonies to come out and publicly take up arms against the King's troops actually knew how to shoot? I'm thinking the war would have been over years earlier.